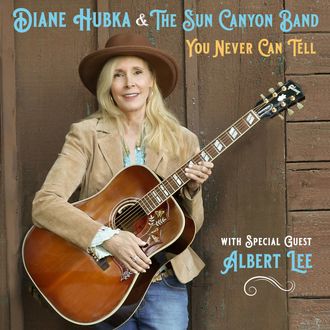 Our new CD will be released on January 20, 2023!
1.    Baton Rouge                             -   Guy Clark, J.C. Crowley 
2.    You Ain't Goin' Nowhere          -   Bob Dylan 
3.     Louisiana 1927                        -   Randy Newman 
4.     Albuquerque                             -    Robert Carlson 
5.     Dancing With My Shadow      -    Rick Mayock 
6.     The Blues Is My Business      -    Kevin Bowe, Todd Cerney 
7.     Shady Grove                             -    Traditional 
8.    To The Light                              -    Severin Browne, Feebo, James Lee Stanley,  David Roth 
9.     Belly of the Whale                    -   Rick Mayock 
10.   Home                                         -   Diane Hubka 
11.   You Never Can Tell (C'est la Vie)  -   Chuck Berry
L to R:
Joe Caccavo - banjo, bass
Chad Watson - bass, trombone, mandolin, guitar, vocals
Albert Lee - guitar, mandolin, vocals
Diane Hubka - vocals, guitar
Rick Mayock - acoustic, elec. & baritone guitars, vocals
Lynn Coulter - drums, percussion, vocals
Los Angeles folk & roots outfit Diane Hubka & The Sun Canyon Band's debut album You Never Can Tell (out Jan. 20) dances from '60s folk, delta blues, lilting ballads to Texas swing and heartland country rock. Co-producer, arranger and bassist Chad Watson (Ronnie Milsap, The Burrito Brothers, Janis lan) brings together Hubka's honey-toned vocals and rhythm guitar, Rick Mayock's melodic vocals and expressive guitar work, and one-of-a-kind guitar sounds and mandolin picking by special guest, legendary English guitarist Albert Lee (Emmylou Harris, Everly Brothers, Eric Clapton). 
The album is preceded by the single release "Baton Rouge" by Texas troubadour Guy Clark. "I'm happy to pay homage to this great American music I love, while putting my own spin on it," Hubka said. You can hear her and the Sun Canyon Band doing exactly that on this track, dressing it up with kitchen-sink percussion and Zydeco vibes. "Our drummer, Lynn Coulter, is from New Orleans! His playing lends wonderful, syncopated vibes and a wide sound palette to the songs. Both Rick and Albert add thrilling guitar picking!" 
  
The album is a sprightly and seamless blend of breezy Americana, Western swing and California folk-pop that recalls the work of '70s country-rock icons Gram Parsons and Emmylou Harris. "I'm so excited to have Albert Lee play on the album! I'm a huge fan of Emmylou.  I actually learned a lot of these tunes from her recordings, several of which Albert had played on!"        
Until recently, Hubka was known across the country as a jazz artist. She lived in New York City for two decades, and become a vital member of its jazz community. After recording three albums in the Big Apple, including one with saxophonist Lee Konitz, she moved to Los Angeles in 2005, where she recorded three more albums, and even made it big in Japan, touring the country multiple times. But Hubka grew up in the Appalachian mountains of Western Maryland. A child of the '60s folk revival, with a mother who sang in a folk group, she was a big fan of Peter, Paul & Mary, Joni Mitchell and Neil Young. In early 2017, she turned away from a lifetime of jazz and went in a new direction. "I wanted to sing protest songs, and union songs!" she laughs. "I suddenly felt a calling to get back to my acoustic and folk roots." Five years later, Hubka and her Sun Canyon Band are releasing their new album of originals (written by Hubka and Mayock) and covers of classics by artists including Bob Dylan, Randy Newman and Chuck Berry.